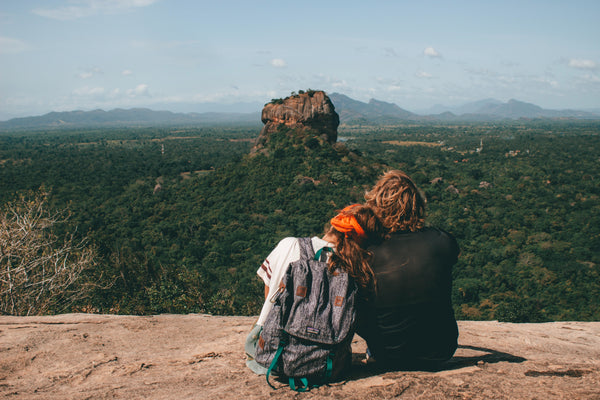 The Best Outdoor Backpacks You Should Know About
Photo by @tannedtonedtravelled
For the avid hiker, having a conventional backpack is almost as important as the type of shoes they wear while on the trail. Backpacks come in many different sizes, materials, and colors. Depending on the type of adventure one is looking for, picking the right backpack is vital. With different styles and materials on the market, making an educated choice can seem overwhelming. Good thing we compiled a list of 5 of the best outdoor backpacks one can use while hiking! Just remember to pack that handy leather camera strap while traveling! 
Best Outdoor Backpacks: 
Patagonia Refugio Backpack - Although this backpack is made specifically to fit a woman's torso, the Patagonia style has proven to comfort any user and is one of the best outdoor backpacks one can own. The pack is 26 liters and comes in various colors such as white and red. Notable features of this backpack include two main compartments with extra compartments on the inside. The pack is water-resistant and has an extra support strap for the chest area. 
Explore Fusebox Daypack by The North Face - This trendy 14-liter backpack is a must-own for city folk. Useful for both hiking and day use, the Explore Fusebox Daypack is one large compartment with support on the bottom and top. Because of this, items inside are kept safe in case of a fall. The pack is water-resistant and has a laptop compartment and mesh pouch on the lid. Very conventional.
Women's Aurora Backpack by The North Face - Both sleek and lightweight, this small Aurora Backpack is perfect for any woman looking for a small day pack. The pack is 22 liters and works best in the city and during travel. The pack has multiple drop compartments and fits comfortably. Like the logo says, "Designed for women, by women."
Flash 45 Pack by REI - Looking for a backpack for a weekend trip in the outdoors? Look no more. One of my personal favorites, the REI Flash Pack will get the job done. The pack is hydration-compatible and has a breathable rain shell on the top. Like the name, it is 45 liters and has easily-accessible compartments. Just imagine a mini-backpacking pack! The pack can be found in smaller sizes as well. 
Fastpack BP 250 AW III by Lowepro - If figuring out how to pack camera equipment a struggle, then be sure to check out this backpack. Made specifically for photographers, the Fastback by Lowepro has multiple compartments that can hold most DSLR cameras. The pack has additional lens compartments, as well as space for a drone pack. Through special material, this backpack is made to withstand all weather and will keep camera equipment safe. Just remember to pack that handy camera strap and tripod before heading out to capture some images! 
Picking a backpack for an adventure can often be a struggle. Just be sure to do research before purchasing a pack and try them out in the  store as well! I personally own multiple backpacks that I use for different adventures. We hoped this list helped narrow down your choices and have fun exploring the outdoors with the help of one of the best outdoor backpacks! 
Written by @visualsbyry