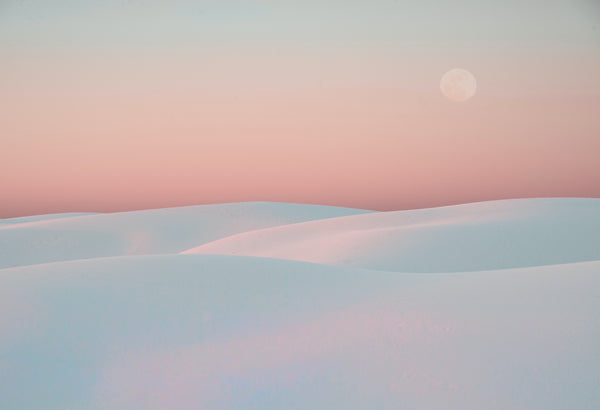 Visiting White Sands National Park, Our Newest Park
Photo by @wildhoney
What could be more magical than waking up in the middle of white dunes to watch the sunrise? Honestly, not a lot. The National Park Service must have thought so as well, because in December of 2019 White Sands National Park finally became established as America's 62nd National Park. Located just an hour and a half from El Paso, White Sands National Park has become one of the most unique desert trips in the area. Visiting White Sands National Park can be a bit tricky so we decided to put together some information you might need when visiting. 
What created the dunes found across the national park? Years ago, the Permian Sea dried up leaving millions of gypsum minerals spread across the valley. Those particles are what give the area today its unique white desert glow. This allows photographers to capture stunning landscapes as well as some very unique lifestyle images, so remember to bring your camera and camera strap! 
Camping in White Sands National Park :
When it comes to camping in White Sands National Park, there is only one option. The park offers 10 first-come, first-serve campsites within the backcountry of the park. If you are looking for the best experience you can get while visiting White Sands National Park, this is it. All 10 campsites can be found along a 2-mile loop that weaves its way through the park and gives each campsite enough space so that visitors get their own space. To get a campsite, we recommend arriving around 8 AM before the visitor center opens. If you don't happen to get a site or don't mind staying outside of the park, there are plenty of camping options such as Oliver Lee Campgrounds (24-miles) Aguirre Spring Campgrounds (39-miles), & the hotels found in Alamogordo (13-miles). 
Visiting White Sands National Park is a very unique experience. Here are a couple of reasons why. 
Barefoot Hiking - Temperatures in the park can reach highs of 110 degrees Fahrenheit during summer while the nights can reach lows of 30 degrees Fahrenheit. Unlike normal sand, the mineral gypsum does not retain heat which allows visitors to hike through the temperature-bearing sand barefoot. It is highly recommended to either do this or bring light walking shoes since heavier shoes will make traversing through the sand difficult. 
Zero Light Pollution - Zero light pollution gives visitors the rare opportunity to stargaze in almost complete darkness. Views like this can't be found anywhere else and give visitors a great opportunity to take some night photos. Be sure to use your camera strap or tripod to stabilize your camera! Don't have a camera strap? Be sure to check out our camera-related products here.
Sand Sledding - You've probably been sledding in the snow but have you even sledded down dunes? Make sure you bring a sled or trash can lid so that you can experience all the unique features this park has to offer! Dunes can be found all over this park so finding a spot too sled will not be a problem. 
Final Tips When Visiting Great Sands National Park: 
Just like any other adventure, your Great Sands National Park experience all relies on how you prepare yourself. Make sure to fill up water at the visitor center and bring tons of sun protection. Camping amongst the dunes can often be very windy, so be sure to stake everything down. Check the park for constant updates here and enjoy your time visiting America's newest national park! 
Written by @visualsbyry